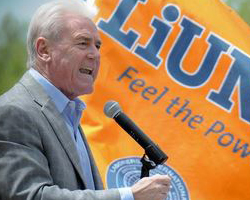 Memorial Day
Dear Brothers and Sisters,
This Memorial Day we will reflect on the sacrifices of those who have made it possible for our freedom and democracy to endure.
As we have all struggled over the past year with the health, economic and social impacts of a global pandemic, the brave men and women of our armed forces, including thousands of LIUNA members, have quietly and nobly continued to fulfill their promise to protect our nation.
I ask you to join me in a solemn salute to those who serve and have served, some making the ultimate sacrifice. We owe these patriots and heroes a debt of gratitude that can never truly be fully repaid. But we must commemorate our veterans by building an ever stronger union and country so that when their service has ended they return to opportunities to prosper.
On behalf of myself, LIUNA General Secretary-Treasurer Armand E. Sabitoni, and the entire General Executive Board, I wish each and every one of you a meaningful and enjoyable Memorial Day.