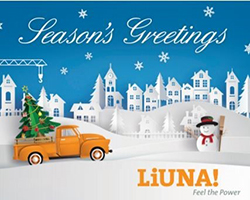 Dear Brothers and Sisters,
Season's greetings! On behalf of myself, General Secretary-Treasurer Armand E. Sabitoni and the entire LIUNA General Executive Board, I want to wish each and every one of you and your families the best for the holidays and the coming year.
This is the season when many of us reflect on our faith, take stock of the passing year and look toward the year to come. Because of the hard work and tireless dedication of our leadership and our membership, 2019 has been a year of progress for our union. We have strengthened our foundation in order to continue to fight in 2020 for the good jobs and benefits essential to sustain our families, to build our nations, and to ensure that LIUNA remains the most effective, respected and powerful voice for working men and women.
I am certain that the best is ahead and that we will rise to every challenge and seize every opportunity. To every member of our LIUNA family, Happy Holidays and Happy New Year!