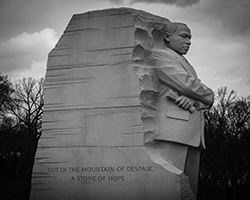 Honoring the Legacy of Dr. Martin Luther King, Jr.
As we honor the legacy of Dr. Martin Luther King Jr., it remains as important today as it was during Dr. King's lifetime that each of us commits to fighting for the better world he envisioned, where people are measured by their character and their actions. We must continue the work he began to realize his dream of an America free of the scourge of racism and extremism.
Dr. King saw the cause of labor and the fight for civil rights as inextricably linked. Unions have always been at the forefront of the movement for social, economic, and racial justice. We must make our unions bigger, stronger and more active, so the uplifting and equalizing power of collective bargaining contracts are available to all.
We can make Dr. King's dream real so that every American, regardless of religion, ethnicity, gender, wealth or the lack of it, has equal rights and equal opportunity. But we have to act to achieve his dream. We must speak out forcefully and unequivocally against bias, bigotry and racism whether it is in our community or in our halls of power.
On behalf of myself, General Secretary-Treasurer Armand E. Sabitoni, and the entire LIUNA General Executive Board, I ask you to join me in continuing to fight for the legacy of Dr. King and his vision of a better America.