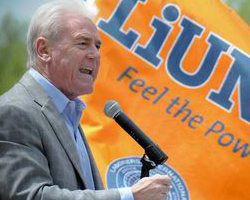 Juneteenth is a Sacred Holiday
Honoring Black Lives and Resilience
(pdf) Washington, D.C. (June 17, 2021) – Terry O'Sullivan, General President of LIUNA – the Laborers' International Union of North America – made the following statement today:
President Biden's signature on legislation making Juneteenth a new federal holiday is a symbolic and important step forward in honoring Black lives by recognizing and commemorating the end of slavery in the United States. The broad bipartisan support for Juneteenth in Congress is both commendable and a reassuring sign that despite the seemingly unrelenting political strife there is consensus on the fundamental crimes in our nation's past. LIUNA urges lawmakers to be equally clear-eyed and open to policy solutions to address the sins of the present in order that our nation might live up to our highest ideals of equity, opportunity, and fairness to all men and women regardless of race, color, or creed.
###
The half-million members of LIUNA – the Laborers' International Union of North America – are on the forefront of the construction industry, a powerhouse of workers who are proud to build the United States and Canada
LIUNA
905 16th Street NW
Washington, DC 20006