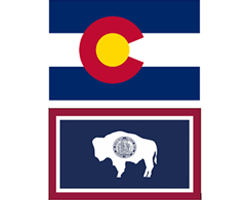 Wyoming Mail Handlers Vote to Amalgamate with Local 321
** Colorado Mail Handlers to receive ballots this week **

The principal parties, including Local 319 President Robert (Bob) Jacknitsky, Local 321 President Errol (Tony) Wilson, and NPMHU National President Paul Hogrogian all support the proposal to amalgamate Local 319 with Local 321. Additionally, the National Executive Board and the Local Executive Board of Colorado's Local 321 unanimously support the amalgamation.
Specifically, in accordance with Article XIII, Section 1 of the NPMHU National Constitution, [t]he National President, subject to the approval of the National Executive Board and by majority vote of the members of each affected Local Union, shall have the authority to amalgamate or de‑amalgamate, affiliate, and otherwise alter existing Local Unions where s/he deems such action necessary or advisable, and such authority shall not be limited by any other provision of this Constitution or of the Uniform Local Union Constitution.
To that end, with support from all parties, the National Office is authorized to conduct a referendum vote affording each member of Local 319 and each member of Local 321 the opportunity to vote for or against the amalgamation of Local 319 with Local 321.
On September 30, 2021, all ballots received from Local 319 were counted. Wyoming mail handlers voted overwhelmingly in support of a proposed amalgamation between local 319 and local 321 with 93% voting in favor of an amalgamation.
On October 4, 2021, ballots will be mailed to Colorado Mail Handlers in good standing at the time of printing. To be counted, ballots must be returned by mail and received in the designated post office box in Washington, DC by 9AM on November 12, 2021.
On behalf of Local Presidents Bob Jacknitsky (319) and Tony Wilson (321), National President Paul Hogrogian, and the entire NPMHU Executive Board, Colorado mail handlers are asked to vote in favor of the amalgamation for the reasons shown on the Resolution brought forth during the most recent National Executive Board meeting in August 2021.