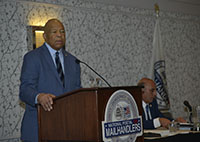 National President Paul Hogrogian, National Secretary-Treasurer Michael Hora, and the entire NPMHU National Executive Board are saddened to note the passing of Elijah Cummings, a fierce and devoted advocate for the Postal Service and its employees during his 23 years as a Member of Congress. Congressman Cummings, who represented Maryland's 13th congressional district and the City of Baltimore since 1996, most recently served as Chairman of the full House Committee on Oversight & Government Reform. He did so with the integrity and grace for which he was properly and universally admired.
President Hogrogian expressed his personal appreciation, and the appreciation of all Mail Handlers, for the Congressman's continuous work to support postal reform legislation during the past several years. Together with other committee leaders, Congressman Cummings was a strong supporter of the bipartisan legislation that has been supported by the NPMHU and all other postal stakeholders to preserve the Postal Service as a vital American institution. He also was a frequent visitor and speaker at the NPMHU's biennial Legislative Conferences, where he earned and received the admiration of all Mail Handlers in attendance.
Elijah Cummings was a son of a sharecroppers who never forgot where he came. He was an icon in his community and in Congress, and will truly be missed.