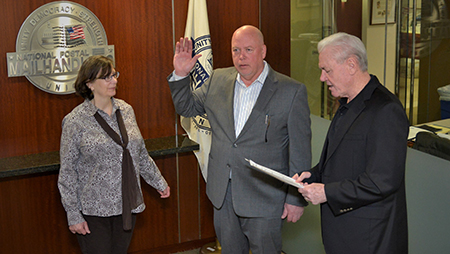 On Monday, February 4, 2019, LIUNA General President Terry O'Sullivan was on hand at NPMHU Headquarters in Washington, DC to officiate at the ceremony to install Michael J Hora as NPMHU National Secretary-Treasurer. Brother Hora was honored to be joined by President Hogrogian, the National Executive Board and spouse Carol Hora. Also, in attendance were NPMHU Headquarters staff and the 2019 Field Negotiating Committee. "I am honored by the support shown to me by the Board. I will work hard to serve the membership to the best of my abilities," said NST Hora.
Brother Hora has been a Mail Handler for more than thirty-three years and has served the members of the NPMHU in a wide variety of positions and assignments. Before transitioning to the National Office in 2011, Brother Hora served as shop steward, arbitration advocate, and both Vice President and President of Local 321 in Denver, Colorado for more than four terms of office. Before accepting a full-time assignment at NPMHU National Headquarters, Hora served as a member of the Committee on the Future, on the Resolutions and Constitution Committees at several NPMHU National Conventions, and on the 2006 and 2011 Field Negotiating Committees in preparation for those rounds of national negotiations.
Upon his initial appointment to Washington, DC, Brother Hora served as a National Representative in the Contract Administration Department, as Executive Director of the NPMHU-sponsored health plan known as the Mail Handlers Benefit Plan, and finally as Assistant to the past two National Secretary-Treasurers.